Title: Eight Days a Week
Author: Amber L. Johnson
Publisher: The Writer's Coffee Shop
Publication Date: 11/6/2014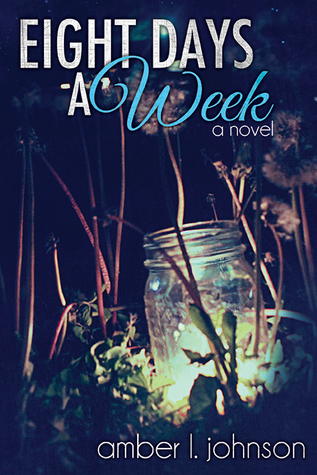 Synopsis:
Gwen Stone has secrets she's not ready to reveal. After a recent promotion at work, she needs a caretaker for her children. She's frenzied and in a lurch and pretty much ready to hire the first person who comes along. So she does.
Andrew Lyons needs to get out of his sister's apartment, and a Craigslist posting may be the answer to his prayers. But what he thought was an ad for a room rental turns into a job offer he can't refuse. Accepting the nanny position could change his life, if only he had a clue how to be a grownup.
A working mother, a shirtless manny who looks good in a towel, two children who need more than than a babysitter, and hours of kids' TV can only spell disaster for everyone involved.
Because a manny should always mind his own business.
And he definitely shouldn't fall in love with his boss.
Amber is a full time mom, full time wife, is employed full time, and writes when she can. She believes in Happily Ever Afters that occur every day - despite the obstacles that real life serves up on a regular basis. Or perhaps they're sweeter simply because of them. She always has 2 rubber bands on her wrist, a song in her head, and too much creamer in her coffee cup that reads 'Cocoa' - because she's a rebel. If she's not at her desk, with her boys, or behind the computer, she's supporting live music with her arms raised above her head and eyes closed, waiting for the drop.
Once again, Amber L. Johnson has found a way to twist humor and heat into a beautiful story that touched me deeply.
Andrew Lyons needs a place to live and a job. Without a job, he won't be able to access his inheritance, and he is tired of living with his perfect sister. Andrew answers an ad for a room, but ends up getting offered a nanny job instead. Normally, taking care of kids wouldn't be his thing, but one look at their hot young mom causes him to change his mind.
On the surface, Eight Days a Week is about a young man who doesn't want to grow up and how he helps a family that has had to grow up too fast. But underneath it all Eight Days is about FREEDOM; freedom to be who you were meant to be, freedom to live life to it's fullest, freedom to love with the entirety of your being. I love that Andrew steps into his new role without forcing changes on the people around him. He never once tells Bree to stop trying to be a little adult. He doesn't correct Brady's lisp. He doesn't point out that Gwen is a workaholic. Andrew just steps in and does his job, but in a way that allows everyone to see these things about themselves. I think it's because he just accepts them that everyone eventually works to correct these problems.
The heat between Andrew and Gwen is instant and amazing, but it's the kids who steal the show. Andrew's relationship with these two hurting children is very impressive and heart-melting.
My only complaint about this book is that in the beginning I feel like I just didn't get to know Gwen enough. She was absent even though she was present, if you know what I mean.
Overall it was an amazing story and I was very glad to read it.
4.5 Stars
I asked Amber to share her Eight Days a Week playlist.
New Love - Maroon 5
Glitter in the Air - Pink
We Are Unbreakable - Hedley
Underdog - Imagine Dragons
playlist on GROOVESHARK
I'm giving away one autographed paperback copy of EIGHT DAYS A WEEK. Included in this giveaway is one stuffed Muno and an EIGHT DAYS A WEEK key chain. Once you read the story, the stuffed Muno will make sense I promise.
Unfortunately, because of shipping costs, this Giveaway will be restricted to the U.S. and Canada. If you live an another country and really want to have an autographed copy of EIGHT DAYS and you are willing to pay the shipping costs, then feel free to enter.