Title: Merry Christmas, Baby (Lucky Harbor #12.5)
Author: Jill Shalvis
Publisher: Forever
Publication Date: 12/2/2014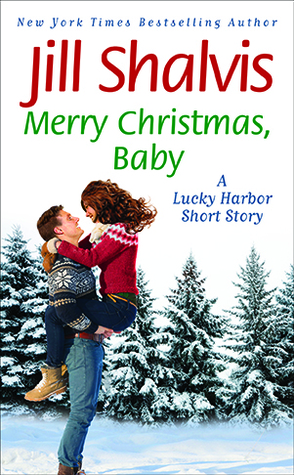 Synopsis:
Wild child Chloe Thompson can't believe how much things have changed. She still can't get enough of her sexy husband Sawyer, but he seems to prefer working to thinking about impending fatherhood. So tonight, a very pregnant Chloe is escaping her troubles at the town Christmas party.
Sheriff Sawyer Thompson hopes surprising Chloe at the party will give him a chance to set things right. But as the snow begins to fall and the wind rages, he wonders whether he can make it back in time. While mother nature conspires to keep Sawyer and Chloe apart, an unexpected arrival will require them to kiss and make up . . . and ring in the happiest holiday Lucky Harbor has ever seen. 13,000 words
New York Times
bestselling author Jill Shalvis lives in a small town in the Sierras with her family and far too many assorted quirky characters. Any resemblance to the quirky characters in her books is, um, mostly coincidental.
Look for Jill's latest, ONE IN A MILLION, on shelves and e-readers now, and get all her bestselling, award-winning books wherever romances are sold.
Visit Jill's website for a complete book list and daily blog detailing her city-girl-living-in-the-mountains adventures.
Connect with Jill on Facebook:
http://facebook.com/JillShalvis
Connect with Jill on Pinterest:
http://www.pinterest.com/jillshalvis
Connect with Jill on Tumblr:
http://jillshalvis.tumblr.com
Even though this was just a short and sweet little story about Chloe and Sawyer, I relish any chance to visit Lucky Harbor.
Chloe and Sawyer's relationship has always been a little rocky, but when she become pregnant, Chloe's restless behavior kicks in to overdrive and Sawyer keeps taking dangerous jobs out of town. Chloe goes into labor during a disastrous snowstorm when Sawyer is hours away.
I liked getting to see the extra peek into the hearts and minds of the flighty Chloe and her strong and steady lawman. And of course, it's always good to return to the love, friends, and family that make up Lucky Harbor.
If you're in need of a quick Christmas fix, you can never go wrong in Lucky Harbor.
4.5 Stars
Jason Mraz - I Won't Give Up