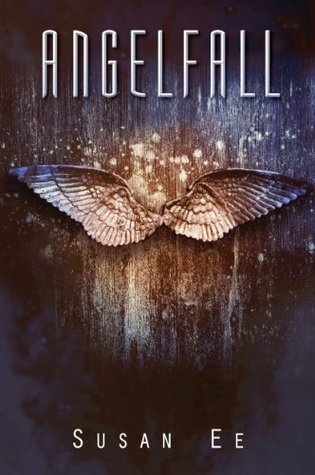 Goodreads Blurb
It's been six weeks since angels of the apocalypse descended to demolish the modern world. Street gangs rule the day while fear and superstition rule the night. When warrior angels fly away with a helpless little girl, her seventeen-year-old sister Penryn will do anything to get her back.





Anything, including making a deal with an enemy angel.





Raffe is a warrior who lies broken and wingless on the street. After eons of fighting his own battles, he finds himself being rescued from a desperate situation by a half-starved teenage girl.





Traveling through a dark and twisted Northern California, they have only each other to rely on for survival. Together, they journey toward the angels' stronghold in San Francisco where she'll risk everything to rescue her sister and he'll put himself at the mercy of his greatest enemies for the chance to be made whole again.
I listened to this on audio book so please forgive me if I spell some things wrong.
It's the end of the world. To escape the street gangs that terrorize the cities, Penryn Young, her younger, wheelchair bound sister Paige, and their mother flee their abandoned apartment building to make their way into the mountains. On their way out of town, Penryn witnesses the horrific mutilation of an angel by others of his kind. Unable to stand by and watch, Penryn aids the broken angel, provoking the other angels steal her sister in retribution.
Penryn bandages and protects the injured angel, Raffe, until he is somewhat healed. She then threatens him and finally makes a deal to have him lead her to the Ari, the place where Raffe believes the angels have taken her sister.
En route to the Ari, Penryn and Raffe battle a street gang, a fanatical group calling themselves The Resistance, and small creatures that Penryn and Raffe dub "low demons". Penryn observes and asks questions of Raffe, attempting to learn all that she can about angels in order to stack the cards in her favor when she does find Paige. Raffe attempts to remain indifferent and reserved as he gets to know the amazing "daughter of man" called Penryn.
Penryn finds herself increasingly attracted to Raffe, a creature she views as one of the enemies of her world. They do end up sharing a kiss.
It is not the gentle kiss of a couple on a first date, nor is it the kiss of a man driven by simple lust. He kisses me with the desperation of a dying man who believes the magic of eternal life is in this kiss.
By masquerading as a woman seeking the company of the angels, Penryn is able to sneak herself and Raffe into the Ari. Paige is found, but there is still a question about whether or not she can be saved. Raffe runs into some old enemies leaving him with a whole new set of problems.
I have read many (many, many) books about angels. To me this one was definitely the best. At the beginning, Raffe took off his boots and had blisters on his feet. It took Penryn a moment to realize that as an angel, Raffe is not used to traveling on foot. This author really thought things through and brought a certain real-ness that so many other stories have lacked.
The characters that this author creates are so rich and complete. Penryn is so full of fire. She never backs down even after watching Raffe fight against 5 angels at one time.
"You've got to be kidding me."
"I never kid about my warrior demigod status."
"Oh. My. God." I lower my voice, having forgotten to whisper.

"You are nothing but a bird with an attitude."
The end of the world is described is such beautiful detail that it feels like I could find it right outside my front door.
I have read reviews stating that they enjoyed the story up until the end when things get a little weird. Yes, I agree that things get weird. I'm talking sci-fi weird. Like Frankenstein weird. But it doesn't change my opinion of the story. The ending only enhances my excitement for the next in the series. I especially loved how even though the ending isn't wrapped up neatly and it left open for the next book, I did not feel like we were left hanging.
I gave this one a 4 out of 5 stars.