Title: Stitching Snow
Author: R.C. Lewis
Publisher:
Disney-Hyperion
Publication Date: 10/14/2014
Source: ARC from Publisher through Netgalley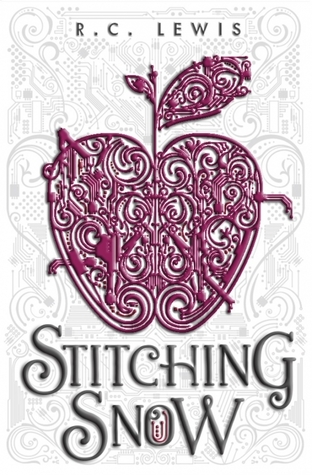 Princess Snow is missing.
Her home planet is filled with violence and corruption at the hands of King Matthias and his wife as they attempt to punish her captors. The king will stop at nothing to get his beloved daughter back—but that's assuming she wants to return at all.
Essie has grown used to being cold. Temperatures on the planet Thanda are always sub-zero, and she fills her days with coding and repairs for the seven loyal drones that run the local mines.
When a mysterious young man named Dane crash-lands near her home, Essie agrees to help the pilot repair his ship. But soon she realizes that Dane's arrival was far from accidental, and she's pulled into the heart of a war she's risked everything to avoid. With the galaxy's future—and her own—in jeopardy, Essie must choose who to trust in a fiery fight for survival.
When I'm not writing novels, I'm teaching math. Or when I'm not teaching math, I'm writing novels. It gets a little confusing in here sometimes.
Find more about R.C. Lewis on her WEBSITE.
This book has been waiting on my iPad forever. Other books, releasing earlier than October, kept jumping in front and taking precedence over STITCHING SNOW, but I never forgot about it. This beautiful cover was always haunting me every time I opened by Kindle app.
For some reason, STITCHING SNOW is not at all what I was expecting, even though it really is like the description above. I guess I was expecting more of a closer re-telling of Snow White rather than a Steampunk interpretation of the story. I have seen a couple of reviewers compare STITCHING SNOW to CINDER by Marissa Meyer. I haven't read Cinder, so I have no idea if it is similar. I do know that it isn't like anything I have read before.
We start out on a remote planet where a girl, Essie, is working on programming and "stitching" some mine drones. She is the lone female in a mining community, but the men leave her alone for the most part. They rely on Essie and her work with the drones to keep their workload down.
Essie and her drones happen upon a wrecked transport and find an injured young man inside. Essie recognizes his vessel as coming from Garam, a planet that has remained neutral in the war between the King on Windsong and the Exiles. When the boy recovers, Essie learns that his name is Dane and he is "treasure hunting".
Essie ends up traveling with Dane and they make the journey across the universe, making enemies and more discoveries. The time they spend together is never dull. Besides the obvious tension between the two of them, they are also being pursued by a group on Garam, and there is the threat of Essie's father and her step-mother once they return to Windsong.
This book has a bit of everything; action & adventure, princesses & castles, sci-fi & robots, and forbidden romance. If you are a YA fan, this one is for you.
Why not 5 stars? This one seemed to wrap up too quickly for me. It seemed like such a large amount of time was spent on the whole journey, but the major parts at the end were a little glossed over. It was still good, I just would've liked to see the resolution take place, not just be told that they did.
Metric - Help, I'm Alive
While my blood's still flowing