Title: Breathe, Annie, Breathe
Author: Miranda Kenneally
Publisher: Sourcebooks Fire
Publication Date: 7/15/2014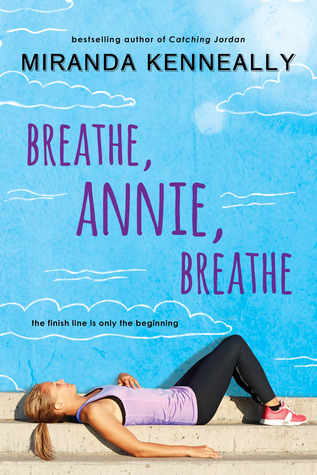 Synopsis:
Annie hates running. No matter how far she jogs, she can't escape the guilt that if she hadn't broken up with Kyle, he might still be alive. So to honor his memory, she starts preparing for the marathon he intended to race.
But the training is even more grueling than Annie could have imagined. Despite her coaching, she's at war with her body, her mind—and her heart. With every mile that athletic Jeremiah cheers her on, she grows more conflicted. She wants to run into his arms…and sprint in the opposite direction. For Annie, opening up to love again may be even more of a challenge than crossing the finish line.
"Breathe, Annie, Breathe is an emotional, heartfelt, and beautiful story about finding yourself after loss and learning to love. It gave me so many feels. Her best book yet." — Jennifer Armentrout, New York Times bestselling author of Wait for You
Read an excerpt:
http://mirandakenneally.com/writing/e...
Growing up in Tennessee, Miranda Kenneally dreamed of becoming an Atlanta Brave, a country singer (cliché!), or a UN interpreter. Instead she writes, and works for the State Department in Washington, D.C., where George W. Bush once used her shoulder as an armrest. Miranda loves Twitter, Star Trek and her husband.
I've been a fan of Miranda Kenneally ever since I read CATCHING JORDAN almost three years ago. I have really enjoyed all of the books THOUSAND OAKS series, but there was just something extra special to me about BREATHE, ANNIE, BREATHE.
Although Annie Winters has never been much of a runner, she knows quite a bit about running from watching her now deceased boyfriend train for a marathon that he didn't live to run in. Annie has decided that it is up to her to finish the race for him. Through the help of some faces familiar to THOUSAND OAKS readers, Annie is connected with Matt, who is going to help her train to run in the marathon.
On one of her weekly longer runs, Annie is introduced to Jeremiah, Matt's younger, danger-seeking brother. "Jere" terrifies Annie on many levels, but mostly because he makes her feel alive for the first time since losing Kyle.
Because of Annie's feelings of guilt and fear, Jeremiah and Annie decide to just be friends. Jeremiah is a runner also and is very helpful with providing encouragement and even first aid for Annie. It's very obvious that they have strong feelings for each other, but are either one of them ready to face what they might have to give up in order to be together?
Annie's pain and loss was a very real aspect of this book. Her struggle to move forward was evident in everything she did and every choice she made. It was great to see her learn to become her own person again.
Jeremiah is just about the sweetest thing ever. He was so patient and encouraging to Annie. I loved that he never showed feelings of jealousy toward Kyle and Jere often tried to get Annie to talk about her lost love.
I truly believe that this is Kenneally's best book so far. I recommend it to fans of mature YA and NA contemporary romance. I inhaled it in two days. (Look at me. I'm punny.)
5 out of 5 stars
Pearl Jam - Just Breathe
Even when reading the book, this was the song often playing through my head so I knew it was the only one to add to the post.