Title: The Hooker and the Hermit
Author: L.H. Cosway & Penny Reid
Publication Date: 2/2/2015
Source: My Shelves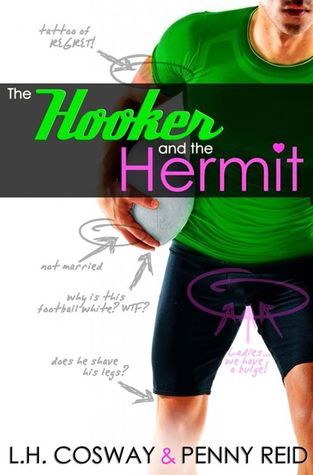 Synopsis:
New York's Finest
Blogging as *The Socialmedialite*
April 22
LADIES AND GENTS! I have an announcement!

You know that guy I featured on my blog a few months ago? The really, really hot Irish rugby player who plays the position of 'hooker' in the RLI (Rugby League International)? The one with the anger management issues, the body of a gladiator and the face of a movie star? The one with the questionable fashion choices leading me to ask whether he was the lovechild of a leprechaun and a hobbit? Ronan Fitzpatrick? Yeah, that guy.

Well, I have a confession to make…

THE HERMIT

Annie Catrel, social media expert extraordinaire at Davidson & Croft Media and clandestine celebrity blogger, can make anyone shine in the court of public opinion. She is the Socialmedialite, anonymous creator of New York's Finest and the internet's darling. Virtual reality is Annie's forte, but actual reality? Not so much.

THE HOOKER

Ronan Fitzpatrick, aka the best hooker the world of rugby has seen in decades, despises the media—social or otherwise. The press has spun a web of lies depicting him as rugby's wild and reckless bad boy. Suspended from his team, Ronan has come to Manhattan to escape the drama, lay low, fly under the radar. Only, Ronan isn't easy to overlook, and he can't escape the notice of the Socialmedialite…

THE PLAN

When Ronan is sent to Davidson & Croft Media to reshape his public image, he never expects to cross paths with shy but beautiful Annie, nor does he expect his fierce attraction to her. He couldn't be happier when her boss suggests pairing them together.
What lengths will Annie take to keep her virtual identity concealed? And what happens when the hooker discovers who the hermit really is?

The Hooker and the Hermit is a collaboration between authors L.H. Cosway and Penny Reid, is a full length 100k word novel, and is a standalone.
ABOUT PENNY:
Penny Reid is a part time author of romantic fiction. When she is not immersed in penning smart romances she works full time in the biotech industry as a researcher. She's also a full time mom to two diminutive adults (boy-7 and girl-5), wife, daughter, knitter, crocheter, sewer, general crafter, and thought hijacker.
I don't know how to put this other than, I was so surprised by this book. I was expecting a light and fluffy romantic story, and while it had it's light and fluffy moments, this was so much more. Looking at the cover of THE HOOKER AND THE HERMIT, you don't immediately assume, "Oh, now here is a story that is going to be intelligent and make me think." But it definitely is one of the more intelligent romances I've read in a long time. And I don't mean that to put down others, it's just that this one different. It was more.
Annie Catrel is a real girl with very relate-able quirks. I personally am a blogger who lives a great part of her life online. Like Annie, I find it much easier to make friends online than in real life. Many of her fears and experiences are ones that I totally get and completely understand. Annie makes a good living from her blog, but she also works for a PR company as their social media expert. She helps celebrities who are needing to clean-up their image to make good choices online and to create a positive media image.
Ronan Fitzpatrick is a rugby player whose public image was shredded when he pummeled his teammate on the field after Ronan discovered that the teammate was sleeping with his fiancee. Ronan has always struggled with a temper, but now, his ex-fiancee is spreading rumors and making Ronan's life a living hell. Rather than reacting and lashing out, he is hoping that Annie can help him deflect the spotlight that his ex is trying to focus on him.
At first glance, Ronan and Annie couldn't be more different, but when they are alone, there is just something about them that clicks. Ronan is definitely attracted to her, but he is even more impressed with her intelligence and is especially drawn to her quirks. Everything seems to point to the two of them getting together, but both are keeping secrets from the other. The question is which one of these secrets will be the one that ends things for them?
As I said, this was such a smart novel. In it there were many sweet and sexy moments, and there was often a bit of silliness, but I was truly impressed with the strength of the characters, all of them. I enjoyed this book immensely and am grateful that I saw it bounce across my feed one night.
5 out of 5 stars
Give me touch

'Cause I've been missing it

I'm dreaming of

Strangers

Kissing me in the night

Just so I

Just so I

Can feel something