Title: The Summer After You and Me
Author: Jennifer Salvato Doktorski
Publisher: Sourcebooks Fire
Publication Date: May 1, 2015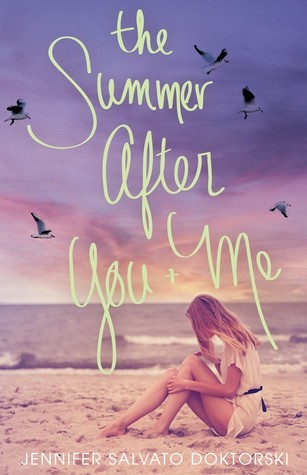 Synopsis:
Sunbathing, surfing, eating funnel cake on the boardwalk—Lucy loves living on the Jersey Shore. For her, it's not just the perfect summer escape, it is home. And as a local girl, she knows not to get attached to the tourists. They breeze in over Memorial Day weekend, crowding the shore and stealing moonlit kisses, only to pack up their beach umbrellas and empty promises on Labor Day. Lucy wants more from love than a fleeting romance, even if that means keeping her distance from her summertime neighbor and crush, Connor.
Then Superstorm Sandy tears apart her barrier island, briefly bringing together a local girl like herself and a vacationer like Connor. Except nothing is the same in the wake of the storm. And day after day, week after week, Lucy is left to pick up the pieces of her broken heart and broken home. Now with Memorial Day approaching and Connor returning, will it be a summer of fresh starts or second chances?
Jennifer Salvato Doktorski is the author of the YA novels, How My Summer Went Up in Flames (Simon Pulse 2013), Famous Last Words (Henry Holt and Co., 2013), which was a Bank Street College Best Children's Book of the Year, and the forthcoming The Summer After You and Me (Sourcebooks Fire, May 2015).
Her first paid writing gig was as an editorial assistant for the North Jersey Herald & News, where, in addition to developing a life-long passion for coffee and news, she wrote obituaries for eight months. She also worked as a speech writer, bank teller, ghostwriter, bookkeeper in a lampshade factory, pet shop clerk, and music zine editor.
She lives with her family in New Jersey and spends her summers "down the shore," where she dreams of taking surfing lessons and observes sea life while keeping her toes in the sand.
What books are you excited for this year?
Waiting on Wednesday is a weekly meme hosted by
Breaking the Spine
- make sure you head over and see what other people are waiting for!