Title: P.S. I Still Love You (To All The Boys I've Loved Before
Author: Jenny Han
Publisher: Simon & Schuster Books for Young Readers
Publication Date: 5/26/2015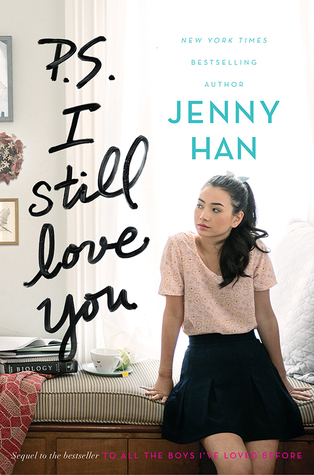 Synopsis:
Lara Jean didn't expect to
really
fall for Peter.
She and Peter were just pretending. Except suddenly they weren't. Now Lara Jean is more confused than ever.
When another boy from her past returns to her life, Lara Jean's feelings for him return too. Can a girl be in love with two boys at once?
In this charming and heartfelt sequel to the
New York Times
bestseller
To All the Boys I've Loved Before
, we see first love through the eyes of the unforgettable Lara Jean. Love is never easy, but maybe that's part of makes it so amazing.
Jenny Han
(Han like
Han Solo
, not Han like
hand
)

was born and raised in Richmond, Virginia.
She went to college at the
University of North Carolina at Chapel Hill
(Go Heels!) and she went on to graduate school at the
New School in New York City,
where she received her MFA in Writing for Children. She lives in Brooklyn.
What's in your bag?
pens, Tom Ford lipstick (one red, one pink), lip balm, mini notebook, eyeglass cleaner
What's your favorite city?
New York in the fall
Where do you write?
in cafes, on the subway, in other people's houses
Morning or night?
Night
Which Hogwarts house are you?
Slytherin
Favorite books?
I Capture the Castle, The Hundred Dresses, Never Let Me Go, Rebecca
Weaknesses include:
cookbooks, boys with dimples, biscuits with butter and jam, an afternoon nap, popcorn at the movies.
Special talents/abilities include:
dialogue from the movie Clueless, the perfect brownie, board games, neat handwriting, 90s song lyrics, nicknaming people and stuffed animals.
What books are you excited for this year?
Waiting on Wednesday is a weekly meme hosted by
Breaking the Spine
- make sure you head over and see what other people are waiting for!