Title: Broken Juliet
Author: Leisa Rayven
Publisher: St Martin's Griffin
Publication Date: 4/28/2015
Source: ARC from publisher via Netgalley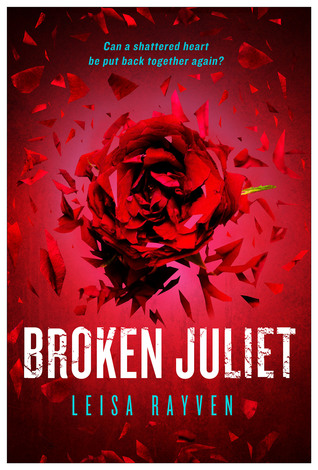 Synopsis:
How do you fix a love that's been broken beyond repair?
For years, Cassie Taylor tried to forget about Ethan Holt. He was the one great love of her life, and when he failed to return her love, a part of her died forever. Or so she thought. Now she and Ethan are sharing a Broadway stage, and he's determined to win her back. Claiming to be a changed man, he's finally able to say all the things she needed to hear years ago, but can she believe him? What makes this time different from all his other broken promises?
Ethan knows he can't change their tumultuous past, but if he's going to have any chance of being with the woman he loves, he'll need to convince Cassie that her future belongs with him.
Don't miss this stunning conclusion to the unforgettable love story that captivated over two million fans online.
Writing has always been a passion for Leisa, and even though she originally intended to be an actress, it wasn't long into her time at drama school that she began writing plays.
Those plays were bad. Very bad. Well, her friends thought they were good, but that's because they were always cast in them and any opportunity to be on stage was met with an obnoxious amount of enthusiasm.
Since then, she's honed her craft, and several of her plays have been produced and toured throughout Australia.
These days, playwriting has given way to fiction writing, and Leisa's debut novel, BAD ROMEO, will be available in a worldwide release through Macmillan Publishing in December 2014.
Leisa lives in Australia with her husband, two little boys, three cats, and a kangaroo named Howard.
(Howard may or may not be her imaginary marsupial friend. Everyone should have one.)
I cannot begin to have the words to express how I feel about this series, so please bear with me while I try to do this review.
BROKEN JULIET is the continuation of the story of Cassie Taylor and Ethan Holt from BAD ROMEO. Cassie and Ethan's is an amazing love story. Ms Rayven has brought to life the joys of finding first love and the devastation of losing it, the ups and downs and the emotional roller coaster ride of catapulting headfirst down the bumpy pathway of love.
This review may contain spoilers of BAD ROMEO so if you haven't read it, begin there.
Ethan is working hard to show Cassie how much he has changed and that he is ready to give their love a chance for real. Cassie, however cannot escape the pain from their past relationship. Every time Ethan makes steps forward, Cassie is bombarded with memories of the choices that Ethan made over and over again back when they were in school.
Moving forward is something Cassie must do, but she cannot decide if she is able to do it with Ethan or without him.
The author shares Ethan and Cassie's love through the present day as well as peeks of their past from Cassie's diary written when their young love went down in spectacular flames. It is the perfect format to draw readers in and a great vehicle to connect people with these wonderful characters.
Ethan and Cassie's story holds such a huge place in my heart. It is filled with pain and longing, struggle and survival. But most of all, this love story provides hope; hope that wrongs can be righted, the past can be repaired, and love can conquer all.
5 out of 5 Stars
Britt Nicole - Safe
"You keep trying to get inside my head
While I keep trying to lose the words you said
Can't you see I'm hanging by a thread..."