Title: The Immortal Heights (The Elemental Trilogy #3)
Author: Sherry Thomas
Publisher: Balzer + Bray
Publication Date: 10/13/15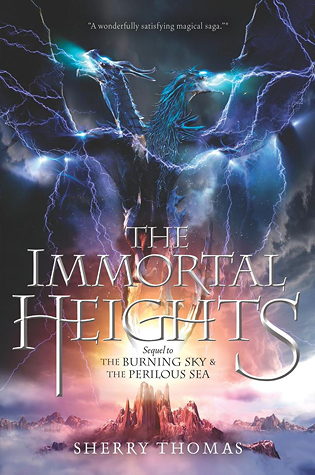 In a pursuit that has spanned continents, Iolanthe, Titus, and their friends have always managed to remain one step ahead of the forces of Atlantis. But now the Bane, the monstrous tyrant who bestrides the entire mage world, has issued his ultimatum: Titus must hand over Iolanthe, or watch as his entire realm is destroyed in a deadly rampage. Running out of time and options, Iolanthe and Titus must act decisively to deliver a final blow to the Bane, ending his reign of terror for good.

However, getting to the Bane means accomplishing the impossible—finding a way to infiltrate his crypt in the deepest recesses of the most ferociously guarded fortress in Atlantis. And everything is only made more difficult when new prophecies come to light, foretelling a doomed effort....

Iolanthe and Titus will put their love and their lives on the line. But will it be enough?

With The Immortal Heights, Sherry Thomas brings the acclaimed Elemental Trilogy to its breathtaking conclusion.
Sherry Thomas writes both historical romance and young adult fantasy.
On the romance side, she is one of the most acclaimed authors working in the genre today, her books regularly receiving starred reviews and best-of-the-year honors from trade publications. She is also a two-time winner of Romance Writers of America's prestigious RITA® Award.
On the young adult fantasy side, there isn't much to say yet, as her debut book is not scheduled for publication until September 2013.
Sherry writes in her second language. She learned English by reading lots of romance and science fiction--every word Isaac Asimov ever wrote, in fact. She is proud to say that her son is her biggest fanboy--for the YA fantasy, not the romances. At least, not yet...
"Sherry Thomas is the most powerfully original historical romance author writing today."—Lisa Kleypas, New York Times bestselling author
"Thomas weaves a lush, intricate fantasy world around a gorgeous romance that kept me riveted until the very last page. What a breathtaking journey!" (Marie Lu, New York Times bestselling author of the Legend series )
Visit Sherry at her website
Follow Sherry on twitter
Find Sherry on Facebook
What books are you excited for this week?
Waiting on Wednesday is a weekly meme hosted by
Breaking the Spine
- make sure you head over and see what other people are waiting for!