Title: The Devil You Know
Author: Trish Doller
Publisher: Bloomsbury USA Children's
Publication Date: 6/2/2015
Source: ARC from Publisher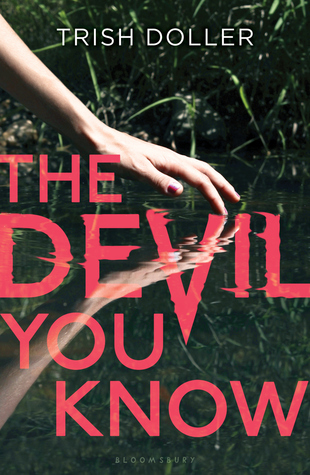 Synopsis:
Eighteen-year-old Arcadia wants adventure. Living in a tiny Florida town with her dad and four-year-old brother, Cadie spends most of her time working, going to school, and taking care of her family. So when she meets two handsome cousins at a campfire party, she finally has a chance for fun. They invite her and friend to join them on a road trip, and it's just the risk she's been craving-the opportunity to escape. But what starts out as a fun, sexy journey quickly becomes dangerous when she discovers that one of them is not at all who he claims to be. One of them has deadly intentions.

A road trip fling turns terrifying in this contemporary story that will keep readers on the edge of their seats.
Arcadia Wells is stuck. She's in a small town with her dad and little brother, stuck with the responsibilities of being his pseudo parent after her mom dies and she's forced to give up everything she loves- including her boyfriend, who moves on with another girl.
She's dying for some freedom and adventure.
In a bout of long awaited rebellion, Cadie goes out to a party one night when she was expected to babysit, and instead of feeling guilty, she feels freed. She meets up with friends at a campground party, where the two gorgeous, intriguing boys from out of town definitely fit the bill for Cadie's thirst for adventure. And then she decides to go on a road trip with them...
Let's just say that Cadie makes some questionable choices throughout this book. Really bad ones. But two hot boys in a classic muscle car, the prospect of adventure, and a little romance are too tempting to turn down. Then add in a dying cell phone, a missing girl, a dead hiker, and well, things start to get ugly pretty fast. But Cadie's a teenager- so stifled and rather sad, and Doller writes in such a way that it's definitely believable that she'd abandon all common sense just to get a few days of freedom. And the swoons:
Noah leans down close so his lips brush against my earlobe, and my insides feel as if someone has set off a string of firecrackers. "I haven't made out with anyone in the back seat yet. Wanna break it in?"
I can't keep from smiling. "Might be fun."
"I guarantee it." Noah's hand comes up and curls softly around the back of my neck as his mouth touches mine. No one has ever kissed me the way he does. Intense, but not hard. Sweet, but not soft. Like if he drew his lips away right now a piece of my soul might just follow along behind. Which sounds completely insane in a head with a history of being level, but I can't help thinking it. And wanting more even if I'm just a tourist attraction.
One of the things I loved about this was the inclusion of the backdrop of Florida. Just as she used the sponge fishing and Greek culture in WHERE THE STARS STILL SHINE, she adds a rich backdrop of the back woods Florida swamplands that is lesser known and very detailed. Great little nugget of
Florida landscape.
This one was different for Trish Doller. Her previous two books were contemporary and very emotionally driven, whereas this one was a thriller and more plot driven. And she definitely pulled this off. The book is very suspenseful, creepy and yet kind of fun because you have no idea who to trust. It's quick read, partially because I was so busy biting my nails off to get to the end! And just where I thought I figured out the mystery part of the story, she throws in a twist that's fabulous, and it all unravels. Definitely check this one out.
The Beatles - Run For Your Life