Title: Jesse's Girl (Hundred Oaks)
Author: Miranda Kenneally
Publisher: Sourcebooks Fire
Publication Date: 7/7/2015
Source: ARC from the publisher through Netgalley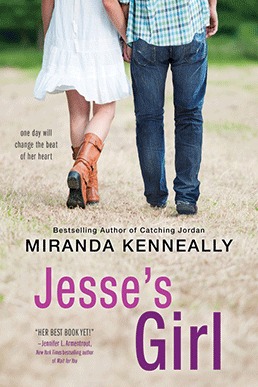 Synopsis:
Practice Makes Perfect.
Everyone at Hundred Oaks High knows that career mentoring day is a joke. So when Maya Henry said she wanted to be a rock star, she never imagined she'd get to shadow *the* Jesse Scott, Nashville's teen idol.
But spending the day with Jesse is far from a dream come true. He's as gorgeous as his music, but seeing all that he's accomplished is just a reminder of everything Maya's lost: her trust, her boyfriend, their band, and any chance to play the music she craves. Not to mention that Jesse's pushy and opinionated. He made it on his own, and he thinks Maya's playing back up to other people's dreams. Does she have what it takes to follow her heart—and go solo?
Growing up in Tennessee, Miranda Kenneally dreamed of becoming an Atlanta Brave, a country singer (cliché!), or a UN interpreter. Instead she writes, and works for the State Department in Washington, D.C., where George W. Bush once used her shoulder as an armrest. Miranda loves Twitter, Star Trek and her husband.
***This review may be considered spoiler-ish, so please be warned if you wish to continue reading the review.***
First of all I have to say that I am a Miranda Kenneally fan. I have loved every book in this series. While you may think that makes me a little biased, I promise I will give you my honest opinion about this book.
The second thing that I'd like you to know is that I understand that this is not an original idea or premise for a story. You have your average young woman who meets the superstar musician and they fall in love. This one, however, is done in such a way as to make you believe that is ACTUALLY COULD happen.
Maya Henry is chosen to shadow teen idol, Jesse Scott, as part of a school project. Jesse is a mega star, but also happens to be related to the principal of Maya's school. While Maya has always dreamed of being a making it big as a musician, she never really planned on doing it alone. Maya had plans for her band and her boyfriend joining her rise to stardom, but life is what happens while you are busy making plans. Life chose another path for Maya, one that led her right to Jesse Scott's front door.
Jesse and Maya do not hit is off right away. Jesse accuses Maya of being a stalker fangirl and attempts to get her thrown out of his dressing room. Maya's first impression of Jesse is less than stellar. She is convinced that he is little more than an arrogant jerk with a good voice.
Jesse and Maya end up spending an incredible day together that for some reason brought to mind Ferris Bueller's Day Off. Yes, their time together was approved by the school, but Jesse had his own ideas for how their time together should be spent. I think he may have been a little clueless in some ways, but he was really sweet and worked hard to show Maya how things really were in the music industry. Jesse also pushed Maya to reach her full potential.
We got a peek at some of our favorite characters from the series. Maya is Sam Henry's little sister, and it is great to see him come back and play the protective older brother with Jordan taming him and keeping him grounded.
Maya and Jesse's relationship is one that just should not work, but it does. I have high hopes for their future, both as musicians and as a couple.
Two Door Cinema Club - Something Good Can Work