Title: Bad Romeo (The Starcrossed Series #1)
Author: Leisa Rayven
Publisher: St. Martin's Press
Publication Date: 12/23/2014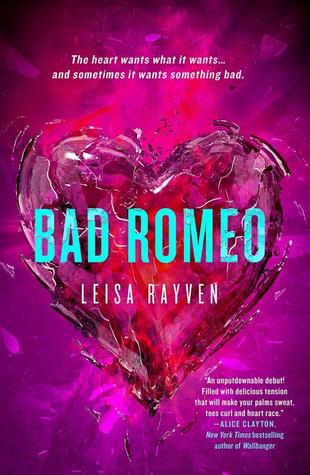 When Cassie Taylor met Ethan Holt at acting school, sparks flew. She was the good girl actress. He was the bad boy about campus. But one fated casting choice for Romeo and Juliet changed it all. Like the characters they were playing, Cassie and Ethan's romance seemed destined. Until he broke her heart and betrayed her trust. Now the A-list heartthrob is back in her life and turning her world around. One touch at a time.
Cast as romantic leads once again, they're forced to confront raw memories of the heartbreaking lows and pulse-pounding highs of their secret college affair. But they'll also discover that people who rub each other the wrong way often make the best sparks.
Find out more about Leisa Rayven at http://leisarayven.com/
Bad Romeo follows the lives of two acting students. They meet and have a star-crossed romance while attending acting school. Things between the two are tumultuous and explosive... and end badly. Years later, they are cast in a show together. Cassie is determined not to let Ethan get under her skin the way he always did when they were in school. Ethan is just an determined to prove to Cassie that he is a completely changed man except for the love he still has for her.
The story is told in both the past and present tense. This works so well for this story. We get to see and feel the emotions that Cassie and Ethan were experiencing while in school as well as the fear and hesitation in the present. It was incredibly smart on the authors part to tell it this way.
I loved so many things about this story that I'm finding it hard to put into words. Watching Ethan and Cassie fall in love is thrilling and sweet. Witnessing the way Ethan completely destroys Cassie and their relationship is heartbreaking, but we have hope because they are at least speaking in the future.
This is an unbelievably emotional book while also being enticing and provocative. The situations and actions of the characters in this book were all authentic and felt very believable.
Cassie and Ethan have a lot of baggage to work through and we only get halfway there in BAD ROMEO. I am greatly anticipating BROKEN JULIET, coming in April 2015. Ethan and Cassie deserve the happily ever after that Romeo and Juliet never received.
5 out o 5 stars
Some books don't necessarily remind me of a specific song upon the first read and it may take me little research and time to find a good song to match the book. And then there are other times, like this one, when I am not reminded of one particular song, but rather a whole playlist.
Ingrid Michaelson ft A Great Big World - Over You
Hoobastank - Running Away (Acoustic)
Parachute - The Mess I Made

Kerli - Love Me or Leave Me