Book: Life in the No-Dating Zone
Author: Patricia B. Tighe
Publisher: Swoon Romance
Expected Publication Date: 12/02/2014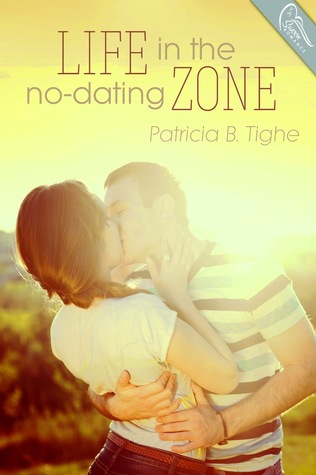 Synopsis:
After surviving her parents' relationship drama when her older sister elopes, Claire Gardner vows not to date during high school. Now, three years later, Claire is thrust into new relationship drama--her two best friends have boyfriends. Which means Claire is spending more and more time alone. And she's more than a little peeved.
Enter Gray Langley. His year-long crush on Claire's friend Lindsey has made him desperate enough to ask Claire for help. Hesitant at first, Claire agrees--anything to get rid of Lindsey's current evil boyfriend. But as Claire and Gray plot together, an attraction develops, and now she must decide if being with Gray is worth the pain that will come from confronting her parents with the reasons for her vow.
The mother of two grown sons, Patricia B. Tighe lives in El Paso, Texas, with her husband and two dogs. Her love of the written word caused her to get a journalism degree from Texas A&M University in 1980 and an MA in Writing Popular Fiction from Seton Hill University in 2008. When not writing or reading, she can be found walking the dogs or yelling at the TV during an NFL game. She's also a fan of British TV shows. Top Gear, anyone?
It all started with a little advice...
Imagine your entire world imploding over someone else's choice. One tiny
decision rippling off of another, causing a domino effect that leaves your
psyche shaken, and forces you to make promises with your mind that your
heart has no hope of keeping.
Meet Claire Gardner.
She's the girl next door with her quirky hobbies, mood changing glasses,
and her laidback, no-nonsense demeanor. When she's not busy building
things, babysitting, bowling, and nose-deep in a book; she's struggling to
keep the solidarity with her two best friends, Rose and Lindsey. Rose, the
lover, and Lindsey, the girl all the guys want. The same two best friends
who are head over heels in their first serious relationships.
Young love can be great, but it can also be cruel.
That's where shy, but undeniably cute Gray Langley comes in. He's a
product of a split home, and lives with his dad and two little brothers.
Although his parents' divorce has left him slightly withdrawn from his folks,
he remains remarkably un-jaded in his own love life.
Gray has had a crush on Lindsey (Claire's bff) for over a year, but he's
never had the nerve to approach her. He overhears a mutual acquaintance
asking Claire for advice during a pool party and decides to call in
reinforcements. He seeks Claire out, hoping for a little insight into
Lindsey's world, and he ends up receiving her well practiced mantra; which
sounds an awful lot like, "Talk to her. Put yourself out there and be
honest..." something she's famous for telling people.
Gray and Claire form a fast friendship, and somewhere along the way she
tugs him out of his shell. Claire teaches Gray about bold gestures, and he
shows her that her world won't stop spinning when things don't always go
according to plan.
When Claire's quest to help Gray score his dream girl turns into a vendetta
against Lindsey's boyfriend, Adam, her world begins to spin out of control.
At the end of the day, Claire has to decide whether she's going to take her
own advice and talk about her problems, or if she's going to isolate herself
and hide behind excuses, vows, and inanimate objects.
I absolutely loved this book. I couldn't stop reading it once I started. The
two main characters are so dynamic and fun. Although Claire is also so
darn stubborn, I could definitely relate to a lot of the things she goes
through. You can't help but root for her.
There were moments that made me smile and tugged at my heartstrings,
and that is, in my opinion, a true sign of a great book.
Thank you, Patricia, for showing us that a LEGO set is much easier to put
back together than a broken heart. I give this read 4.5 stars. Excellent.
Review by: Melissa B. Kratz
Everclear - Wonderful
Ed Sheeran - Lego House
Superchick - Stand in the Rain
Christina Perri - Human