Title: Some Kind of Normal
Author: Juliana Stone
Publisher: Sourcebooks Fire
Publication Date: 5/5/2015
Source: ARC from Publisher Through Netgalley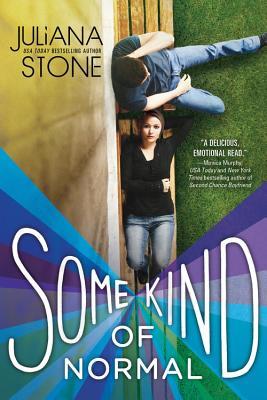 Synopsis:
What is Normal?
For Trevor normal was fast guitar licks, catching game-winning passes and partying all night. Until a car accident leaves Trevor with no band, no teammates and no chance of graduating. It's kinda hard to ace your finals when you've been in a coma. The last thing he needs is stuck-up Everly Jenkins as his new tutor—those beautiful blue eyes catching every last flaw.
For Everly normal was a perfect family around the dinner table, playing piano at Sunday service and sunning by the pool. Until she discovers her whole life is a lie. Now the perfect pastor's daughter is hiding a life-changing secret, one that is slowly tearing her family apart. And spending the summer with notorious flirt Trevor Lewis means her darkest secret could be exposed.
Juliana Stone fell in love with her first book boyfriend when she was twelve. The boy was Ned, Nancy Drew's boyfriend, and it began a lifelong obsession with books and romance.
A tomboy at heart, she split her time between baseball, books, and music-three things that carried over into adulthood. She's thrilled to be writing young adult as well as adult contemporary romance, and does so from her home somewhere in Canada.
This book was a gamble for me. I've been burned before (as I'm sure we all have) when trying an author for the first time. You never know if you should believe the hype you see online unless you have recommendations from some very specific people that you trust with your reading decisions. Unfortunately, I did not see any of my trusted sources recommending Juliana Stone (although I have seen them since reading this book). When I saw SOME KIND OF NORMAL up on Netgalley, I was immediately intrigued and decided to take a chance. I am absolutely thankful that I did.
Trevor Lewis is recovering from an awful accident that has forever changed his life. More immediately, it has set him behind in school and he is spending the summer with a new Government tutor, Everly. He has to pass Government in order to graduate so he can move to NYC with his friends and hopefully resume their musical plans. That is if he can get his brain to work properly. Playing the guitar was always Trevor's future, but now it seems more confusing than the Government notes he's supposed to be studying.
Everly is a 'good girl'. Her father is a perfect pastor and her family is also perfect. Or at least that is what they try to present to the world. Everly knows that her father is keeping an enormous secret. She sees through the false cheer her mother wears around her like a cloak. Tutoring Trevor has become her escape from the perfection that is slowly choking her to death.
This was a quick read, but filled with quite a lot of depth. Trevor was a hugely likable character. He was flawed and grumpy. His brain was fighting against him and sometimes it seemed that is was going to win. Trevor was extremely sweet with Everly and I enjoyed their friendship very much.
Everly was overwhelmed by the secrets being hidden in her house. She comes to relish the 'normalness' that hanging with Trevor affords her. While in the beginning of the book she seemed ready to sweep the secrets under the rug and continue the facade that her family was hiding behind, I liked how strong she became and how proud of her family she was when the truth was finally revealed, no matter how much it had the potential to change her life.
I have to state here that I am a pastor's daughter. I have lived through the pressures of presenting a perfect family unit. Unfortunately, communities expect a pastor and his wife and children to be something almost inhuman in their actions and Ms. Stone captured that with amazing accuracy. I think that the expectations are even harder on the pastor's wife than the pastor. I could completely understand the way Everly's mother was attempting to smooth everything over, put I did not like the way she just avoided facing it altogether. And then she all but disappeared when it came time for everything to be revealed. I felt a little like she abandoned Everly when Everly could have really used a mother's presence.
Overall, I was rather impressed with SOME KIND OF NORMAL and also with Juliana Stone. I know I will be reading her book, BOYS LIKE YOU, very soon.
4 out of 5 Stars
Radiohead - Fake Plastic Trees
This song seems to have a lot of meanings according to the internet, but for me it'a about trying to be something you are not. The part that sticks out and relates to this story so well is the lyrics;
"It wears me out. It wears me out"
That is where Everly finds so obviously finds herself, but it is also there that she finds Trevor.