Title: One Night
Author: A.J. Pine
Publisher: InterMix
Publication Date: 4/21/2015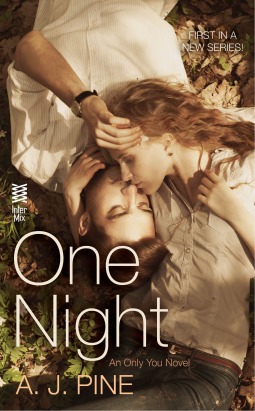 Synopsis:
When she lost it all, Jess decided to cope by living a lie.
But you can't keep on pretending forever…
Twenty-one-year-old Jess used to have everything—a loyal best friend, a boyfriend she loved, and a future that was right on track. But in a single night, her whole world changed.
Now, Jess lives for the impersonal connection of drunken hook-ups and to-go coffee cups in the morning. All she needs is one night to pretend everything is fine…until she meets Adam.
Thanks to a sports injury, gorgeous, charming basketball star Adam Carson is stuck in physical therapy at the hospital where Jess interns—giving her the perfect opportunity to see his sweet, considerate nature and making her realize that maybe she does want something more.
But while Adam might be the best thing that's happened to Jess in a long time, letting him past her carefully constructed walls means letting him know what happened...and why he'd never want her for more than one night.
AJ Pine writes stories to break readers' hearts, but don't worry—she'll mend them with a happily ever after. As an English teacher and a librarian, AJ has always surrounded herself with books. All her favorites have one big commonality–romance. Naturally, her books have the same. When she's not writing, she's of course reading. Then there's online shopping (everything from groceries to shoes) and, of course, a tiny bit of TV where she nourishes her undying love of vampires and superheroes. And in the midst of all of this, you'll also find her hanging with her family in the Chicago burbs.
AJ Pine is the author of IF ONLY and WHAT IF with Entangled Embrace and the upcoming ONE NIGHT and ONE LIFE with Penguin/Intermix in 2015.
Ever since one night changed everything about Jess's life, she has been numb. Spending the weekends going through guy after guy, just to avoid being alone has left Jess feeling even more empty than she was before.
Jess is finishing her Physical Therapy internship when Adam comes in to the office with an injury. Jess recognizes him as the popular basketball star from school. Her original intent is to have nothing whatsoever to do with him, however, the more she works with him, the stronger her attachment to him grows.
Adam is struggling. Not only is his recovery not happening as fast as he would like, his future is suddenly looking very different from what he had planned. Sharing coffee with Jess, his new PT intern has become the one bright spot in his days.
Adam is super sweet and so charming. He is confident and caring, but extremely patient. He and Jess build a strong friendship which is the only way he is able to break down the walls she has so carefully built around her heart.
I enjoyed the struggle and the build up as well as the sweet romance and wooing in this story. This is my second book by AJ Pine and I liked it even better than the first. It was a great example of New Adult Romance.
Adele - Hiding My Heart
I've used this song before (about 2 years ago), but the
lyrics are just so perfect for Jess and Adam.