(Quote from an uncorrected proof and my not be in the final copy of the book)
Title: A Court of Thorns and Roses
Author: Sarah J. Maas
Publisher: Bloomsbury Children's
Publication Date: 5/5/2015
Source: ARC From Publisher Through Netgalley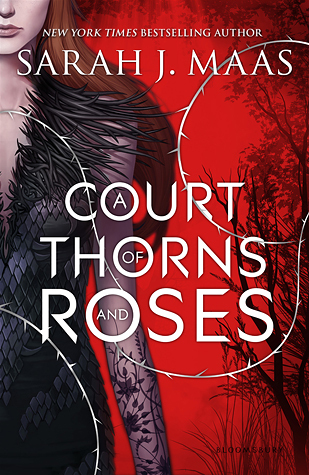 A thrilling, seductive new series from New York Timesbestselling author Sarah J. Maas, blending Beauty and the Beast with faerie lore.
When nineteen-year-old huntress Feyre kills a wolf in the woods, a beast-like creature arrives to demand retribution for it. Dragged to a treacherous magical land she only knows about from legends, Feyre discovers that her captor is not an animal, but Tamlin—one of the lethal, immortal faeries who once ruled their world.
As she dwells on his estate, her feelings for Tamlin transform from icy hostility into a fiery passion that burns through every lie and warning she's been told about the beautiful, dangerous world of the Fae. But an ancient, wicked shadow grows over the faerie lands, and Feyre must find a way to stop it . . . or doom Tamlin—and his world—forever.
Perfect for fans of Kristin Cashore and George R. R. Martin, this first book in a sexy and action-packed new series is impossible to put down!
Sarah J. Maas is the New York Times and USA Today bestselling author of the Throne of Glass series (Queen of Shadows, Book 4, will be out in September 2015), as well as the A Court of Thorns and Roses series (out 5/5/15).
Sarah lives in Bucks County, PA, and over the years, she has developed an unhealthy appreciation for Disney movies and bad pop music. She adores fairy tales and ballet, drinks too much tea, and watches an ungodly amount of TV. When she's not busy writing, she can be found exploring the historic and beautiful Pennsylvania countryside with her husband and canine companion.
I was so excited when I was approved to read this book early for review. I was blown away (read obsessed) with Sarah J. Maas's THRONE OF GLASS series and I couldn't wait to jump in to a new world that she had created. This book has a little bit of everything; fantasy, magic, and somehow the feeling of being both a historical and also dystopian book. That's not even mentioning the romance, and believe me, there is some pretty intense romance. And I don't mean in the graphically sexual way, but in the darkly seductive, deeply meaningful, "lay down your life for the one you love" type of romance.
As mentioned above, Feyre is a young woman who spends her days hunting. One day, after making a kill and bringing home food for her family, Feyre is visited by Tamlin, a fierce creature who come from the neighboring magical lands and demands retribution because Feyre had killed one of his friends. He says that Feyre must return with him to pay the debt that she owes for taking the life of a faerie.
In her new home, Feyre learns that Tamlin is actually a faerie lord who rules this new land she now finds herself in. While he seems fierce and frightening, Tamlin proves himself to Feyre over and over again as he keeps her safe from the unimaginable threats that stalk her every move. Feyre begins to trust Tamlin and spends a lot of time getting to know him, but she can't help but fear that there is so much that she just does not understand.
What is the strange plague that is causing devastating changes in the land? Who is the mysterious 'SHE' that Feyre has overheard mentioned in hushed conversations? What is the real reason that Tamlin will not allow her to return to her family?
Just like in THRONE OF GLASS, Maas has created a heroine who doesn't need saving, but instead saves the world. Feyre is frightened, but strong. She gives up much for the sake of her heart. She's really quite remarkable.
The beginning of the book involves a lot of setting up and world building. I have a few friend who mentioned that they were struggling to push through the beginning because it was moving slowly. I think that maybe she was expecting the story to jump right into action because of THRONE OF GLASS. I personally didn't have any problem with the pace of the story at all. I think the plot moved along perfectly and when the real conflict of the story came around, this book became impossible to put down.
This is absolutely 5 out of 5 stars
Puscifer - Tumbleweed
Trading Yesterday - She is Sunlight