Title: Extraordinary Means
Author: Robyn Schneider
Publisher: Katherine Tegan books
Publication Date: 5/26/15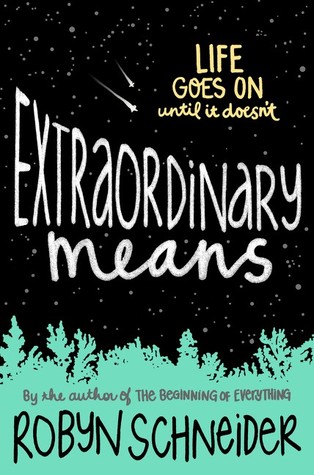 Synopsis:
From the author of
The Beginning of Everything
: two teens with a deadly disease fall in love on the brink of a cure.
At seventeen, overachieving Lane finds himself at Latham House, a sanatorium for teens suffering from an incurable strain of tuberculosis. Part hospital and part boarding school, Latham is a place of endless rules and confusing rituals, where it's easier to fail breakfast than it is to flunk French.
There, Lane encounters a girl he knew years ago. Instead of the shy loner he remembers, Sadie has transformed. At Latham, she is sarcastic, fearless, and utterly compelling. Her friends, a group of eccentric troublemakers, fascinate Lane, who has never stepped out of bounds his whole life. And as he gradually becomes one of them, Sadie shows him their secrets: how to steal internet, how to sneak into town, and how to disable the med sensors they must wear at all times.
But there are consequences to having secrets, particularly at Latham House. And as Lane and Sadie begin to fall in love and their group begins to fall sicker, their insular world threatens to come crashing down. Told in alternating points of view, Extraordinary Means is a darkly funny story about doomed friendships, first love, and the rare miracle of second chances.
Robyn Schneider is a writer, actor, and online personality who misspent her youth in a town coincidentally similar to Eastwood. Robyn is a graduate of Columbia University, where she studied creative writing, and the University of Pennsylvania School of Medicine, where she studied medical ethics. She is also the author of the middle grade Knightley Academy books, written as Violet Haberdasher. She lives in Los Angeles, California, but also on the internet. You can watch her vlogs at
youtube.com/robynisrarelyfunny
and follow her on Twitter, Tumblr, Facebook and Instagram.
What books are you excited for this week?
Waiting on Wednesday is a weekly meme hosted by
Breaking the Spine
- make sure you head over and see what other people are waiting for!